Comus Tour Grade Mic Cable 6.5mm 2 Core Artic Grade Flexible Black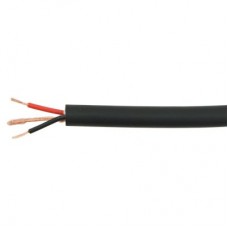 Product Code:
CCAMC65BK
Availability:
In Stock
Price: £0.79

NO LONGER AVAILABLE. Please contact us for Sommer Cable alternative, coming soon to online store.
Comus Tour Grade Microphone Cable

This premium quality Tour grade cable (manufactured in Germany) combines flexibility and high level audio performance.
Applications
Microphone and Line level analogue balanced audio
Mechanical Specification
Conductor Stranded copper wire 28x0.10mm=0.22mm
Shielding Spiral screen bare copper minimum 90% coverage with 0.10mm wires
Jacket Polyethylene colour optional
Diameter 6.40 + -20%
Type Twisted pair plus cotton fillers between cores

Technical Data
Conductor resistance max 86Ohm/km at 20 degrees centigrade
Insulation resistance min 20MOhm x km at 20 degrees centigrade
C/S approx 110pF/m @1kHz
Operating voltage max 50-75 V AC/DC
Temperature range -20 to + 70 Centigrade

Price per metre.

Please feel free to request a FOC sample of CLD cable.