Selecon PLCYC1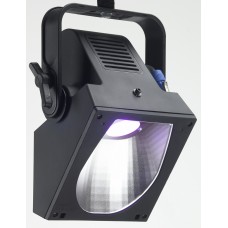 Brand:
Philips
Product Code:
SPLCYC1
Availability:
In Stock
Price: £695.00


This is guaranteed to be a genuine Philips lamp.
We do not provide unbranded lamps nor will we supply or
offer any 'equivalent' lamp without your express consent.
Delivering a smooth even beam, the PLCyc1 seamlessly blends intense washes of colour on cycloramas up to 5m high. Using LED source technology combined with a properly shaped asymmetrical reflector, the PLCyc1 delivers consistent light distribution without the compromising performance of vertical or horizontal spreader lenses.
Each luminaire can replace the equivalent of a traditional four colour 1000W per circuit Cyc luminaire, and with the convenient powercon system, the PLCyc1 can light a typical cyclorama with a single 10A non-dim circuit.
The PLCyc1 LED luminaire has an on-board LCD menu system for setup, control, and addressing. The menu system is intuitive and offers all configuration options with a few button presses.
Having trouble getting data to your light on set? All PLCyc1 luminaires support wireless DMX512 control for instant connections without running control wiring. Each optional wireless receiver also has a DMX512 out port to control adjacent luminaires. Receivers and transmitters are available from Wireless Solution, City Theatrical and Lumenradio.
All PLCyc1 luminaires support wired and wireless DMX512 control with a choice of 8- or 16-bit control resolution. With the increased development of LED luminaires like PL1 and PLCyc1 with 4 or more colours, additional control is needed for intuitive operation.
Features
Single source 120W RGBW LED chip delivers limitless colour mixing capabilities and variable colour temperature
Single units mean it is no longer necessary to change lamps or mix the colour on the cyclorama using multiple fixtures. One source allows multiple colours.
Homogenised fully mixed light, no multiple colour shadows
Asymmetric reflector directs more light downward to produce visually even illumination down a vertical surface.
Can be used as a top cyclorama or a groundrow simply by rotating the yoke.
No need for lamp replacement or filter maintenance.
No need for dimmers, connect directly to mains supply.
PowerCon In/Out Power connectors.
DMX512 Input/Output with 8 or 16-bit resolution.
Onboard LCD Menu for ease of addressing/setup.
Fitted with rated safety cable.
Philips Selecon 3-year warranty.
Top-Box Units
The Selecon PLPROFILE1 can be supplied with Philips Selecon's intelligent cable management system. The luminaire has a single cable that connects to a yoke mounted top box. The top box has Powercon in and out and DMX in and out sockets which allows for cables to be run and any focus adjustment can be made without impacting on the cabling.
LED Engine
The PLPROFILE-1's powerful LED engine offers exceptional performance and life. Under normal operating conditions our LED engine has a life expectancy in excess of 25,000 hours, however under worst case operating conditions with the luminaire set to continuous full output it is possible that a small percentage of LEDs may require replacement sooner. The Philips Selecon three-year limited warranty includes our guarantee against premature failure of the LED engine.