ETC Nomad

ETC Lighting Control wherever you are
Small enough to fit on your keychain, Nomad plugs into your computer and opens up the power of both Cobalt® and Eos®/Element™ software, so you can program and run shows anywhere.

Nomad can serve as a primary controller, a backup or a client device - or work offline entirely - operating on either a PC platform running Microsoft Windows® 7/8, or natively on a Mac (Intel processor) running OS X (Mavericks). When it's a primary or a backup, Nomad's system output equals that of the device with the lowest number of outputs. When it's a client, Nomad's output capacity is ignored.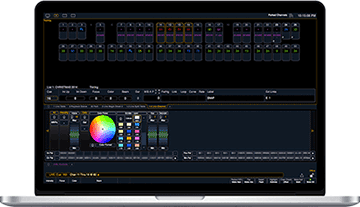 When Nomad is connected to a PC, it can support a fader wing, giving you even more capacity to work with. And for both Cobalt and Eos systems, you can use your favorite ETC accessories - like the RFR (Radio Focus Remote) and iRFR and aRFR mobile apps for Apple® and Android® devices. Nomad also plays well with OSC (Open Sound Control) controllers, and when running the Cobalt application, supports connection to third-party USB-MIDI panels via Direct MIDI.
Computer-based lighting control software;
compatible with Windows 7/8/10 and Mac OS
Can run both Eos/Element and Cobalt software
Available in 256, 512, 1024, 1536 and 2048 outputs
Serves as primary, backup or client and can be used offline
Net3/ACN/sACN and ArtNet output,
DMX via ETC Gadget and DMX/RDM via Net3 Gateways
NB Net2 is NOT supported by ETC Nomad.
Mobile Apps - RFR, iRFR and aRFR supported
Nomad 256 replaces the Eos and Cobalt Client Software Kit
Introducing lxkey|eos
We now offer a keyboard designed to complement the ETC Nomad (Eos Family), lxkey|eos
Bundle pricing of this together with an ETC Nomad is available from the dedicated site http://www.lxkey.co.uk/ or eMail sales@stagelamps.co.uk
Showing 1 to 10 of 10 (1 Pages)