Intelligent Lighting :: RUSH by Martin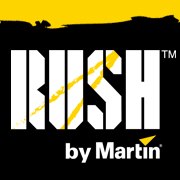 Introducing RUSH by Martin, and affordable range of high performance intelligent lighting from the people behind the industry standard MAC range.
Rush MH 1 Profile: This bright LED profile moving head with efficient optics punches out a variety of effects and colors from two gobo wheels and one color wheel. It houses a motorized zoom and focus, electronic dimmer and strobe, iris and three-facet prism.

Rush MH 2 Wash: Compact, fast, and agile, this LED wash light moving head features RGBW color mixing and a 20-degree fixed beam angle. With smooth flicker-free dimming and electronic strobe

Rush MH 3 Beam: The Rush MH 3 Beam is a powerful beam moving head that blasts an intense and narrow long-throw beam for mid-air looks and effects. It houses a fixed gobo wheel with seven-step iris and color wheel. Other effects include mechanical dimming and strobe, frost effect, eight-facet prism and motorized focus.

Rush Strobe 1 5x5: This white strobe/blinder is a 5 x 5 LED matrix panel with individually controllable LEDs. Controllable via multiple DMX options or sound activated, it includes preprogrammed effect, letter, and number macros. Panels link via an integrated horizontal and vertical locking mechanism.

Rush PAR 1 RGBW: The Rush PAR 1 RGBW is a bright LED PAR can with premixed RGBW color mixing and 20-degree fixed beam angle. It offers electronic dimming and strobe and comes with a flexible bracket for floor or truss-mounting.

Showing 1 to 5 of 5 (1 Pages)